| | |
| --- | --- |
| TIME FRAME: | October 15 - November 1 |
| DEADLINE TO SUBMIT DOCUMENTS TO HR: | November 1 |
| HR CONTACTS: | Tanya Cheney and Marci Robinson |
---
BIG Changes this year:
The cost of health insurance for support staff is going up.
Cash in Lieu Payments will no longer be made to employees who receive insurance benefits from a public school employee.
Updated life insurance information is REQUIRED of everyone.
---
What does HR want you to know about open enrollment?
ALL HUUSD EMPLOYEES--even if you are keeping your same health plan--will complete the Google form and review their choices for:
Health Insurance
Flexible Spending Account (FSA)/Dependent Care
Life Insurance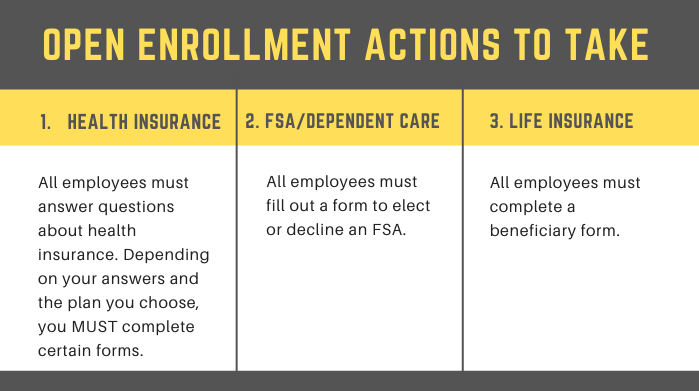 ---
hOW DO I RESEARCH PLANS AND OTHER OPEN ENROLLMENT DOCUMENTS?
Go to the Open Enrollment gray dropdown here: BENEFITS INFORMATION CENTER
---
What are your TASKS

by november 1

?
ALL HUUSD EMPLOYEES complete the Google form.

The form has links to all open enrollment documents. You will check off the ones you need to complete while filling out the form.
You will receive via email a copy of your responses so that you have a list of the documents with checkmarks beside them.

Print and sign the documents for your chosen health plan, the FSA form, and the life insurance beneficiary form.
Either send these via interoffice mail to HR, via postal mail to CO, or edit your form responses to upload them in one file.